DemNet organized a media event in Szimpla Kert, Budapest on May 13, promoting the website Museum of Solidarity and the project Celebrating Solidarity.
The event started with introducing the video shooting workshop that has just finished an hour before. The crew entered the venue with the 'street provocateur' Luca László still wearing the sign 'Don't help!' and handing out leaflets prepared for the prank. After she managed to shock some members of the audience, she joined the table of panelists.
Luca László (one of the main organizers of the enormous non-formal civic initiative 'Let's Help Refugees Together, famous for it's activities during the 2015 refugee crisis in Hungary) , Hunor Király (DemNet), developer and editor in chief of Museum of Solidarity, and Vladimir Radinovic (Radiofonia, Poland), chief reporter of the Museum first talked about the video prank, the results, and how it is going to be used in the promotion of Museum of Solidarity. After that the project and the Museum were introduced, with some example stories, and interesting details from shootings and recordings, frequently mentioned issues of the interviewees, and some trends that were recognized during the making.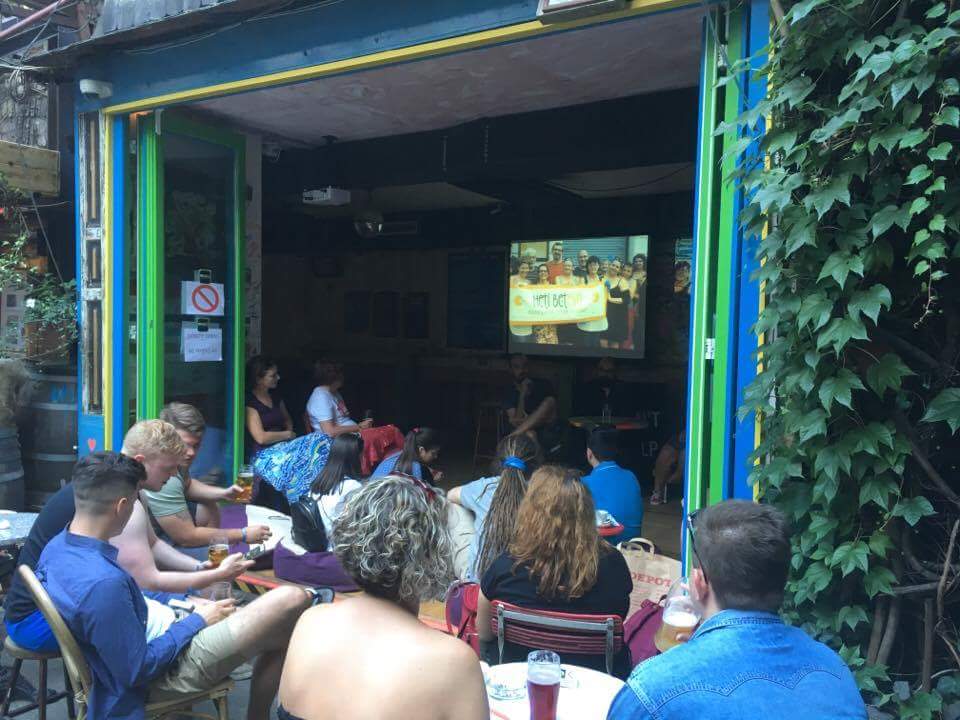 After the panel, a large cake was shared with the audience, as a symbol of celebrating solidarity, and panelists and the partners from all countries of the project pursued informal conversations with the audience.
The organizers faced an unexpected obstacle just before the event, but it ended well. Namely, a demonstration and a press-conference was held that day against the new Hungarian 'Anti-foreign' NGO law. The date of the demonstration and press-conference was matched with the date of voting on the bill in the Parliament, thus it was finalized only two days before. This meant, that the chance of having significant presence of journalists was law at the Celebrating Solidarity event, and that visible on the event's RSVP s well. Luckily speakers of the press conference at the Parliament (members of the NGO platform Civilizáció, that organized the events) expressed their solidarity with us, and approached the journalist after they have finished, stating, they are attending our event too, and asked the press to join them. We started 15 minutes late, and they just made it.
The event was organized as part of the project "Celebrating Solidarity" supported by the EU through the program Europe for Citizens.