Partners in the project Celebrating Solidarity met in Budapest in June (12-13) for a promotion meeting and workshop. The event was aiming to
coordinate
the finalizing of stories on Museum of Solidarity
the development of the web portal Museum of Solidarity
the launch of Museum of Solidarity
promotion of Museum of Solidarity in all countries
and 2. to work on
a live flashmob/promotion material recordnig event, discussing and finalizing it's script
realize the event, and record it
finalize ways of distribution and the use of the finalized video in promotion.
3. realizing and attending the media event
promoting Museum of Solidarity for media representatives in Hungary on June 13.
See the detailed program here: Budapest Workshop Program final.
After discussing and coordinating general project management issues, partners spent the first day discussing and preparing the flashmob/prank recording. DemNet prepared a plan of the activity. See the plan presented to the partners: CeSol Flashmob plan
Partners made some changes and improvements to the plan during the meeting: they decided not to split into several teams and record 3-4 pranks on slightly different thematics, but focus on one prank and one recording, minimalizing potential risks, and improving the quality of the outcome.
On day 2, 13 June, the team met Luca László, volunteer and main organizer of Segítsünk Együtt a Menekülteknek. The non-formal group organized in 2015, helping refugees during the refugee crisis in Hungary, mobilizing hundreds of volunteers. The group is featured in one of the leading stories from Hungary on Museum of Solidarity, and Luca is one of the main interviewees in that story.
Luca László undertook the most sensible and delicate task in the activity: she volunteered for the role of the 'provocateur'. After learning her role, and adjusting the equipment she had to wear (body-sign, leaflets, sound recorder) the team conned over each participant's role, and were ready for action.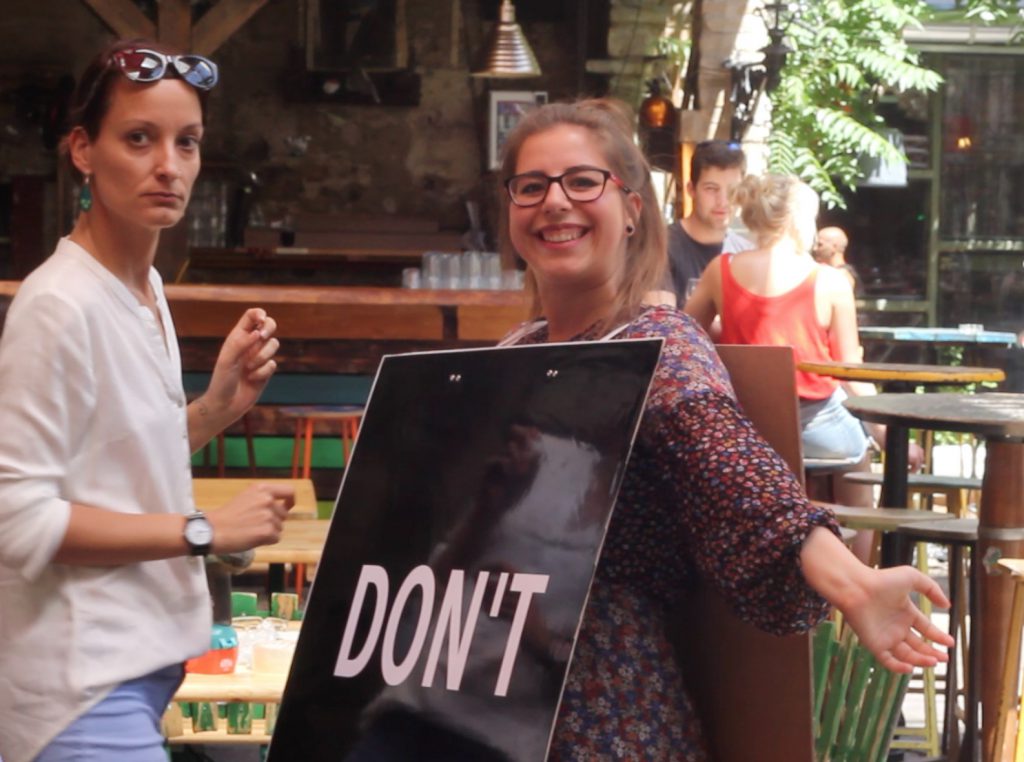 The group recorded Luca on several spots in downtown Budapest, wearing a body-sign 'DON'T HELP' (both English and Hungarian) approaching passers-by to take her leaflets, and get to know more about her message. The message was: it's not on us citizens to help anyone, self-organized, non-formal citizen initiatives are obscure and not controlled, it's on the state to take care of things.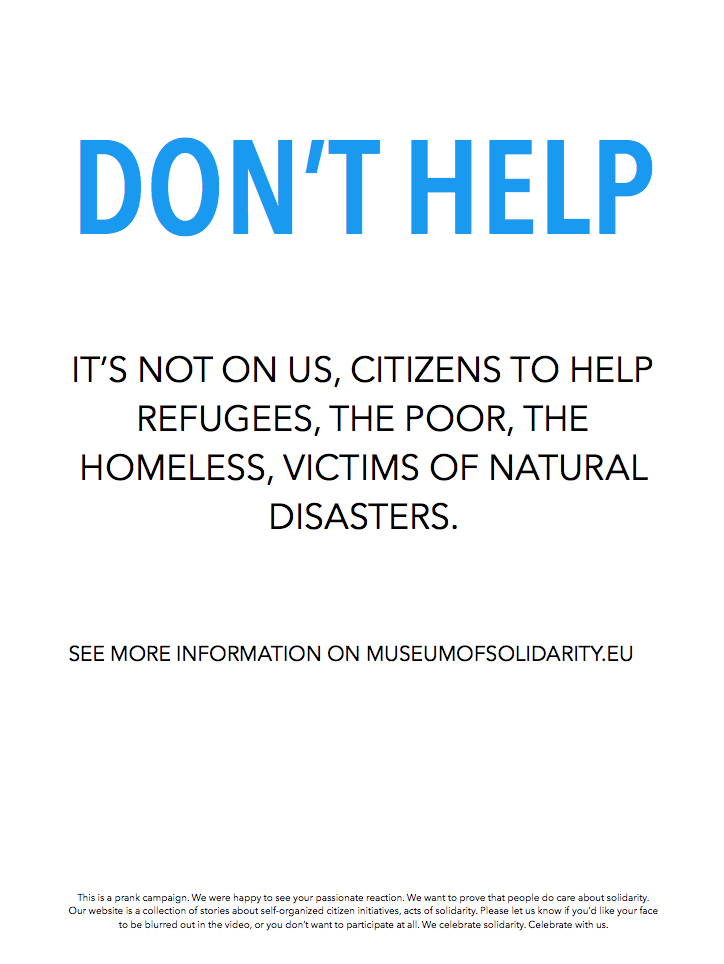 The goal was to provoke people and record their reactions and arguments. Luca was both speaking up and arguing in English and Hungarian, maintaining each conversation to get as many reactions and arguments as possible.
The team was hiding in her surroundings, or acted as tourists, recording video and sound with professional equipment and mobile phones as well.
Members of the team made sure, each person she got in interaction with, gets a card afterwards with contact details, to be able to request not to be edited in the video, or to be edited with their faces blurred out.
Each of them was informed afterwards, it was a prank, and what purpose it served, what we will be promoting with it.
After 4 hours of shooting in the heat of an extremely hot Budapest day, we had enough interactions, and several good reactions for a promotion video. There is enough material to edit three videos: most importantly the internation promo video, also a Hungarian video, and a 'how it was made' teaser, introducing the 'provocateur': actually a grass-root activist, deeply involved in solidarity issues.
After finishing the shooting, the team gathered at the venue Szimpla Kert, and joined the media event.